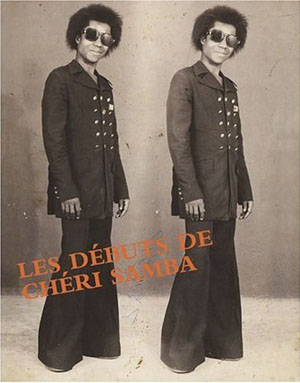 Les Débuts de Chéri Samba
Catalogue, Kunstverein
Braunschweig (Editor), 2005.

87 pages, 26.6 x 21.2 x 0.8 cm.
Hardcover, German/ English:
22 Euro

Delivery in Germany: 2 Euro
Delivery in Europe: 5 Euro

Send an e-mail with your complete mailing address and transfer the amount for book and postage to
the following account:
Galerie Peter Herrmann
Berliner Volksbank
Bank-Code 100 900 00
Account.-No. 7154723000
Delivery upon receipt of your payment. Thanks for ordering.
Please note at your transfer form: Chéri Samba Catalogue
Les Débuts de Chéri Samba
Katalog, Kunstverein Braunschweig (Hg.), 2005.

87 Seiten, 26.6 x 21.2 x 0.8 cm.
Hardcover, deutsch/ englisch:
22 Euro

Versand Deutschland: 2 Euro
Versand Europa: 5 Euro

Bitte senden Sie ein Mail mit Ihrer vollständigen Adresse und überweisen Sie den Betrag für Buch und Versand auf folgendes Konto:
Galerie Peter Herrmann,
Berliner Volksbank-
BLZ 100 900 00
K.-Nr. 7154723000
Nach Eingang des Betrags wird Ihnen das Buch umgehend zugeschickt.

Bitte vermerken Sie auf der Überweisung:
Chéri Samba Katalog