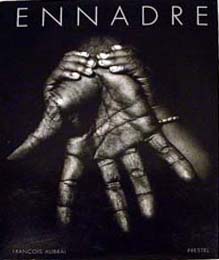 Black Light/ Lumiere Noire/
Schwarzes Licht,
Touhami Ennadre, 1996.

128 Pages with 85 b/w photos.
35.5 x 27.5 cm. Hardcover, German/ English/ French 70 Euro

Delivery in Germany: 2 Euro
Delivery in Europe: 5 Euro

This work is a monograph on Touhami Ennadre, an artist whose visionary photographic depiction of life and death has made him the focus of attention in international photographic circles. His work, especially the "Hands" and "Parisian Suburbs" series, has become increasingly popular.

Send an e-mail with your complete mailing address and transfer the amount for book and postage to
the following account:
Galerie Peter Herrmann
Berliner Volksbank
Bank-Code 100 900 00
Account.-No. 7154723000
Delivery upon receipt of your payment. Thanks for ordering.
Please note at your transfer form:
Ennadre
Black Light/ Lumiere Noire/
Schwarzes Licht,
Touhami Ennadre, 1996.

128 Seiten mit 85 Abbildungen in schwarz-weiß. 35,5 x 27,5 cm, Hardcover, deutsch/ englisch/ französisch 70 Euro

Versand Deutschland: 2 Euro
Versand Europa: 5 Euro

Touhami Ennadres durch eine ganz eigene bildnerische Konzeption und Aufnahmetechnik geschaffenen Bilder erschüttern und berühren den Betrachter existentiell. In einer geradezu visionären Schau des Lebens wird dieser mit den Grenzbereichen von Geburt, Alter und Tod konfrontiert. Die Gesamtdarstellung eines imponierenden Oeuvres, das bereits international Aufsehen erregt hat.

Bitte senden Sie ein Mail mit Ihrer vollständigen Adresse und überweisen Sie den Betrag für Buch und Versand auf folgendes Konto:
Galerie Peter Herrmann,
Berliner Volksbank-
BLZ 100 900 00
K.-Nr. 7154723000
Nach Eingang des Betrags wird Ihnen das Buch umgehend zugeschickt.

Bitte vermerken Sie auf der Überweisung: Ennadre