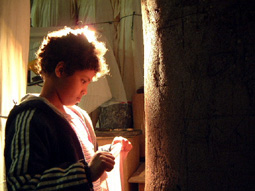 Lawson's daughter Alicia assisting
The 'Physics' works (part of the larger 'Trial with Light' series) are concerned with the physical expression of healing - in an abstract sense as well as the literal sense. The perforations in the pieces show the passage of light into the darkness within: thus indicating healing.
But the real impact of each piece is through the pure abstraction - the form itself being a vehicle for self-healing. Each object triggers off the process of query and understanding that enables us to recover from the injuries of common human experience.
In this way, they tap into our almost magical capacity for healing and self-cure. In my search for meaning in form I was inspired by the Biblical tenet that God made Man from clay. While not trying to play God, I wanted to express my understanding of form in motion as emotion.
It is from this basic concept that I developed the idea of setting form In the drama of dance. Being able to make sense of it in this way has the power to open my eyes, And also has relevance to others as experience. In this particular piece, the myriad holes are like moments of experience in life. They did not kill us, but contribute to what we are.
In fact, they are windows that allows essential light into the core. It is by virtue of this, that the piece Presents a feeling of truth.
Like the passage of light shining into darkness, the process of questioning and understanding helps us heal ourselves from the injuries of experience. Ultimately, it is that process I wish to trigger through my work.
Artist's statement:
The Grand Prix Award for the 1st World Ceramic Biennale 2001 Korea (sponsored by the World Ceramic Exposition 2001 Korea) went to Mr. Lawson Oyekan (Male, 39) of Nigeria for his piece "Healing Being", from the category "Ceramics as Expression; Non-function oriented".
The Gold Awards in the category of "Ceramics for Use; Function oriented" went to Lee, Yong-Phil (Korea) and for "Ceramics as Expression; Non-function oriented" to Ken Eastman (UK), the Silver Awards in the category of "Ceramics for Use" went to Kim, Sang-Ki (Korea), Masatoshi Sakaegi (Japan) and for "Ceramic as Expression" to Philipe Barde (Switzerland), TorbjØrn KvasbØ (Norway), and finally, the Bronze Awards in the category of "Ceramics for Use" went to Karin Bablok (Germany), Francoise Ruegg (Switzerland), Hwang, Kap-Soon, Sohn, Ho-gyu (Korea) and for "Ceramics as Expression" the prizes went to Kim, Hyun-Sook (Korea), Masamichi Yoshikawa, Jun Nishida (Japan) and Yuh, Sun-Koo (US).
In addition, 8 special awards were given for each category, as well as 5 juror awards selected by each individual juror, and 257 winning works. They're the final selected works from the 1st and 2nd screenings of the 4206 pieces by 2019 artists from 69 countries and it'll be exhibited during the World Ceramic Exposition 2001 Korea (August 10~October 28) at the Ichon World Ceramic Center.
If we breakdown the 36 prize winning pieces by country including the jurors prize, Korea had the highest number of pieces with 8 pieces, followed by Japan 6 pieces, Norway and Denmark 3 pieces each, the United Kingdom, Switzerland, Germany, the Unites States of America, Sweden, the Czech Republic with 2 pieces each, and 1 piece was selected from Nigeria, Austria and China.
If we analyze the category breakdown of the awarded works it appears that the "Ceramic for Use; Function oriented" generally came from Asia and "Ceramic as Expression; Non-function oriented" from the West. Shining light on this ratio provides us with information on how it is impossible to ignore the traditional culture that ceramic adopts from it's region.
For the "Ceramics as Expression" awardees, the world trend of stressing the importance of the aesthetic of nature was reflected in the works.
Mr. Oyekan, Grand Prix winner, believes that "an endless question and understanding will heal our wounds of experience like a streak of light in the dark" and that his ultimate objective was to accomplish such a process through his work.
His work is an impressive hand-molded, terra rosa structure measuring, 68cm in length and width and 201cm in height, weighing 110 kg.It was the jurors opinion that "it's a piece that energizes viewers spouting enormous strength like a volcano" and that "it reminds them of the nature, climate and buildings of Africa while simultaneously casting a mystery of weather if it was formed naturally or if was it created by a human or an animal.
Although it seems to have been made through simple techniques, the delicacy seen in the surface is a sharp contrast to its large shape emitting a sense of intimacy, and a simplicity that seems to say that anyone can make such work. At the same time, it gives space a strong sense of "existence".
This monumental, multidimensional piece of extraordinary quality will stimulate viewers. Mr. Oyekan, who is presently working in England, graduated from the Central School of Art located in London and the Royal College of Art. Mr. Oyekan has had numerous private and group exhibitions in, but not limited to, Austria, Canada, England, and the United States. His works are collected by the Garth Clark Gallery in New York, as well as by many famous galleries and museums across the globe in England, Germany, and Japan.
As shown in his career, Mr. Oyekan is a young artist who is receiving international notice and is a rising star of the International Academy of Ceramics. His special devotion for the International Competition inspired him to submit his best work and to personally visit Korea to safely deliver his entry for the final selection based on works.
The Grand Prix includes a monetary award of approximately 40million won including a study trip.The fact that a rising Nigerian artist was awarded the Grand Prix at this inaugural international competition instead of an established European or American ceramist unlike other existing prestiges competitions in Faenza, France, Canada, and Japan provides a new sense of excitement in the international art field.
The 1st World Ceramic Biennale 2001 Korea International Competition in Kyonggi Province, Korea has been evaluated as a comprehensive and vigorous competition opened to the entire world, and established as a new development site for the world's ceramics.
Besides- the participation of 2,019 artists from 69 countries, ranging from ages 19~88, the number of works (4,206), the numerous ideas, techniques, materials, size and diversity only enhance its appeal- compared to the precedent of not submitting their best works to international competitions, our submitted artists elected to submit their best works making this competition a notable exception as all our expectations and confidence are high on this international competition.
- The jurors all concurred that the quality of works was very high and the diversity of entries, from young aspiring ceramists to masters, and the creativity and philosophical insights of entries created an interesting competition.
- The screening was done fairly and clearly without impartiality as information about the participating artists including name, and nationality were not disclosed to the jurors.
The jurors were composed of specialists such as Chung, Yang-Mo (Korea, 66), Lee, Kyung-Sun (Korea, 81), Tony Franks (UK, 60), Ronald Kutcha (USA, 65) and Kimpei Nakamura (Japan, 65). During the screening process different views between the East and the West were clearly apparent. This led to much study and debate amongst the world's erudite scholars thus advancing the development of Korean ceramics.
Because of the International Competition Korean ceramists will better understand constantly evolving global ceramic trends. We expect that the World Ceramic Exposition 2001 Korea, that will take place in Ichon, Yoju and Kwangju of Kyonggi Province from this August, and CEBIKO, which will take place every 2 years, to play a central role in the future development of Korean and global ceramics.