Galerie Peter Herrmann

-

Ancient Art from Africa
| | |
| --- | --- |
| Memorial Head of a Queen Mother | Thermoluminescence-Report |
Benin, Nigeria
16/17th century (+- 380 Y)
Bronze
75 cm

The function of this head is fundamentally different than that of other objects from Benin: while most were made primarily for representative and memorial purposes, this head was made to be sacrificed.
Most heads of this type tend to feature highly stylised and diagrammatic characteristics. In contrast, the face of this head is rendered with relative delicacy. Rosettes made from large, conical pearls are fastened to the sides of the bouffant pearl head covering, while strings of pearls hang down both in front of and behind the ears. In addition to these central pearls, three bulging bumps are affixed to the forehead, each meant to represent a decorative scar. Beginning right under the mouth, the neck is adorned with several coral necklaces, meant as signs of the Queen Mother's wealth. The base of the memorial head, which does not usually feature any deeply symbolic objects, has been almost totally destroyed.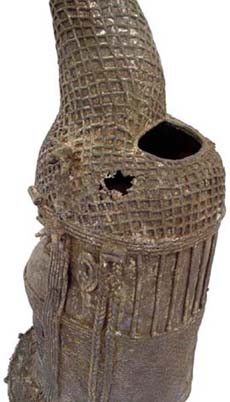 The opening in the head was intended for elephant teeth, which normally illustrated the full spectrum of the king's accomplishments. It is not clear whether the elephant tooth in this head was engraved with the feats of the Queen Mother herself or those she helped the Oba achieve. Depictions of females are very rare in Benin and exist almost exclusively in the form of Queen Mother heads. Female members of court society, for example, never appear on relief plaques at all.
Cp.:
Barbara PLANKENSTEINER (Hg.): Benin. Könige und Rituale. Höfische Kunst aus Nigeria, Wien 2007, S. 395 - 398.
| | | |
| --- | --- | --- |
| Similar objects | | Illustration |
| | | |
| --- | --- | --- |
| Staatliche Museen zu Berlin, Ethnologisches Museum | | Felix von LUSCHAN: Die Altertümer von Benin, Band 1-3, Berlin 1919, Tafel 59. |
| | | |
| --- | --- | --- |
| 1898 erworben von A. Maschmann | | Maria Kecskési: Kunst aus dem alten Afrika. Innsbruck 1982, S. 152. |
| | | |
| --- | --- | --- |
| Museum für Völkerkunde zu Leipzig | | Kunst aus Benin. Afrikanische Meisterwerke aus der Sammlung Hans Meyer, Grassimuseum, Leipzig 2002, S. 83. |
| | | |
| --- | --- | --- |
| Museum für Völkerkunde Wien, Slg. H. Meyer, Slg. G. Haas | | Armand Duchateau: Benin. Kunst einer afrikanischen Königskultur, München 1995, S. 51, 52. |
| | | |
| --- | --- | --- |
| British Museum, London; Rijksmuseum voor Volkenkunde, Leiden | | Philip J. C. DARK: An introduction to Benin art and technology, Oxford 1973, Tafel 28. |
| | | |
| --- | --- | --- |
| Lindenmuseum Stuttgart | | Lindenmuseum. Abteilungsführer Afrika Stuttgart. 1989, S. 53. |
| | | |
| --- | --- | --- |
| Rautenstrauch-Joest-Museum für Völkerkunde, Köln | | Barbara PLANKENSTEINER (Hg.): Benin. Könige und Rituale. Höfische Kunst aus Nigeria, Wien 2007, S. 397. |