Galerie Peter Herrmann

-

Ancient Art from Africa
| | |
| --- | --- |
| Memorial Head of an Oba (King of Benin) | Thermoluminescence-Report |
Benin, Nigeria
16th century
Bronze
56 cm

This head depicts an Oba donning a coral cap with aliform flaps and a coral choker. With the exception of the rims of the eyes and the decorative scars above them, the schematic traits are quite sensitively rendered.
The thick coral choker and the aliform coral headdress are important royal attributes that identify this head as that of an Oba. The small leopards, frogs, rams, elephant trunks and thunderbolts on the base symbolize kingly and preternatural power, while the opening on the head was intended for elephant teeth depicting all the accomplishments of the king. Together with the emphasis on royal insignias, these precious teeth were also meant as a symbol of authority and wealth.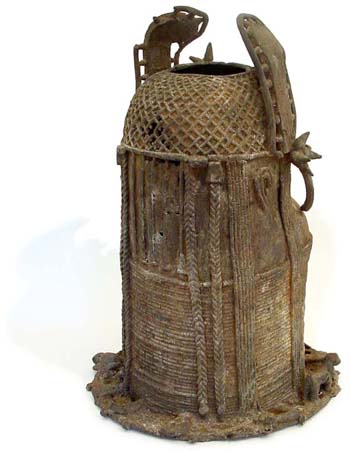 Referring to a similar head, Frank Willett explained: "Oba Osemwede introduced a richly-decorated crown with towering earflap-like projections characteristic of the late period." This head, however, is dated from 450 years ago and thus contradicts any such assertions that the presentation of Benin rulers with aliform head ornamentation was first introduced by Oba Osemwede (1816-46) and that any object with such features is thus at the most 190 years old. Our confidence in the accuracy of Kotalla's thermoluminescence expertise in correctly determining the age of the object leads us to challenge such contentions, all the more so because they rely only on oral tradition; already, recent critical approaches are being revised. Fagg hypothesizes, for example, that heads featuring these distinguishing aliform projections originated in the late 19 th century. But a stylistic affinity to certain wing-less objects that may come from the same workshop (cf. Fagg, 1963, S. 44) is indication that this head may be even older, given that those objects are dated from the 17 th century. Various and divergent theories about the concrete age determination of these heads have been advanced. For more on these, see Peter Junge's article in the Viennese catalogue, pages 185 to 197.
One significant and distinct feature of this head lies in the fact that it was immolated, while most of the other objects served primarily representative purposes.
Cp.:
Frank WILLETT: Ife. Metropole afrikanischer Kunst, Bergisch Gladbach 1967, S. 216.
William B. FAGG: Bildwerke aus Nigeria, München 1963, S. 44.
William B. Fagg: Nigerian Images, London 1963, S. 37.
Kate EZRA: Royal Art of Benin. The Perls Collection in The Metropolitain Museum of Art, New York 1992, S. 33/ 34.
Armand Duchateau: Benin. Kunst einer afrikanischen Königskultur, München 1995, S. 51.
Barbara PLANKENSTEINER (Hg.): Benin. Könige und Rituale. Höfische Kunst aus Nigeria, Wien 2007, S. 185 - 197.

| | | |
| --- | --- | --- |
| Similar objects | | Illustration |
| | | |
| --- | --- | --- |
| Staatliche Museen zu Berlin, Ethnologisches Museum | | Felix von LUSCHAN: Die Altertümer von Benin, Band 1-3, Berlin 1919, Tafel 59. |
| | | |
| --- | --- | --- |
| | | Till Förster: Kunst in Afrika, Köln 1988, S. 104. |
| | | |
| --- | --- | --- |
| British Museum, London | | William B. FAGG: Bildwerke aus Nigeria, München 1963, S. 45. |
| | | |
| --- | --- | --- |
| | | W./ B. FORMAN, Philip DARK: Die Kunst von Benin, Prag 1960, S. 71. |
| | | |
| --- | --- | --- |
| Museum für Völkerkunde, Dresden | | Barbara PLANKENSTEINER (Hg.): Benin. Könige und Rituale. Höfische Kunst aus Nigeria, Wien 2007, S. 373. |
| | | |
| --- | --- | --- |
| Museum für Völkerkunde zu Leipzig | | Kunst aus Benin. Afrikanische Meisterwerke aus der Sammlung Hans Meyer, Grassimuseum, Leipzig 1994, S. 55. |
| | | |
| --- | --- | --- |
| The Perls Collection in The Metropolitain Museum of Art, New York | | Kate EZRA: Royal Art of Benin. The Perls Collection in The Metropolitain Museum of Art, New York 1992, S. 36. |
| | | |
| --- | --- | --- |
| Museum für Völkerkunde, Wien/ Slg. G. Haas | | Armand Duchateau: Benin. Kunst einer afrikanischen Königskultur, München 1995, S. 50. |
| | | |
| --- | --- | --- |
| Museum für Völkerkunde, Wien/ Slg. W. D. Webster | | Barbara PLANKENSTEINER (Hg.): Benin. Könige und Rituale. Höfische Kunst aus Nigeria, Wien 2007, S. 374. |
| | | |
| --- | --- | --- |
| Rijksmuseum voor Volkenkunde, Leiden | | René S. Wassing: Die Kunst des Schwarzen Afrika, Stuttgart 1977, S. 179. |
| | | |
| --- | --- | --- |
| Lindenmuseum, Stuttgart | | Philip J. C. DARK: An introduction to Benin art and technology, Oxford 1973, Tafel 27. |
| | | |
| --- | --- | --- |
| Zandvoort, Slg. Baron v. d. Heydt | | Eckart von Sydow: Kunst und Religion der Naturvölker, Oldenburg 1926, Tafel 1. |